Edu González's 6 best places for

Patatas Bravas

in Barcelona
Edu González
founder 'Patatas Bravas de Barcelona'
The 'Patatas Bravas de Barcelona' project was started in 2009 by Edu González, a chemist from Barcelona. Starting with a simple blog template and armed with a basic Nokia mobile phone, he began touring food spots in search of the best bravas in the city. The blog soon became a website, and its growth was overwhelming. In 2011 it already had 5000 monthly visits, and the following year it started getting picked up by the media. Radio, television and print press appearances made the project even more popular. From 2014 on, the success of social media, especially Instagram, contributed to the rise of  'Patatas Bravas de Barcelona' immensely. With a continuous organic growth (3k followers in 2014, up to the current 60k), @bravasbarcelona has become the world's largest database of patatas bravas.
1) Bar Tomás
This one actually occupies spot 0 of 5. These are the originals, the pioneers of the bravas movement in the city. Creators of the 'allioli + spicy oil' formula. As they are constantly imitated, I'm giving them an honorary spot on the podium, as observers of the 'pax bravera'.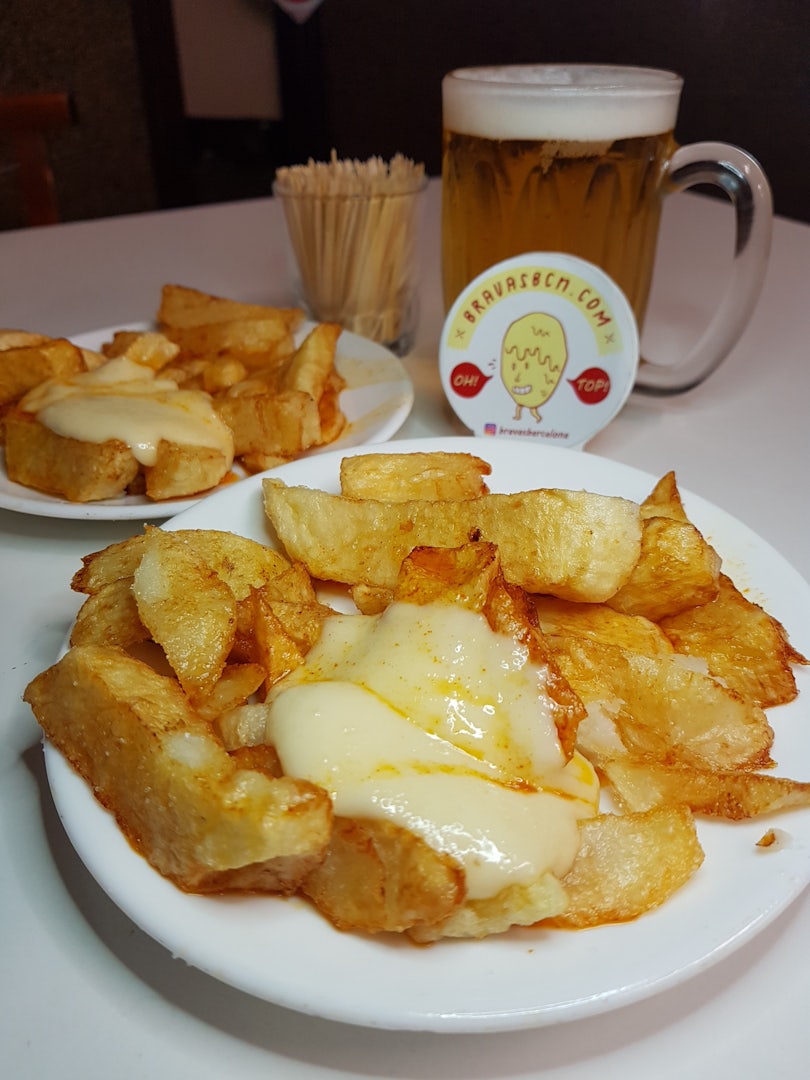 2) Senyor Vermut
They don't go around saying that their bravas are made in the image and likeness of those of Bar Tomás, but the truth is that they do such a good version of them that they surpass their teacher's. Perfect allioli, which does not get boring, and a very spicy sauce, reminiscent of the original Espinaler sauce, eternal companion of the vermouth. Topped off with green peppers. There's always a line at the door, but it's worth waiting for. If you tell them that I sent you, it will make their day. Lovely people.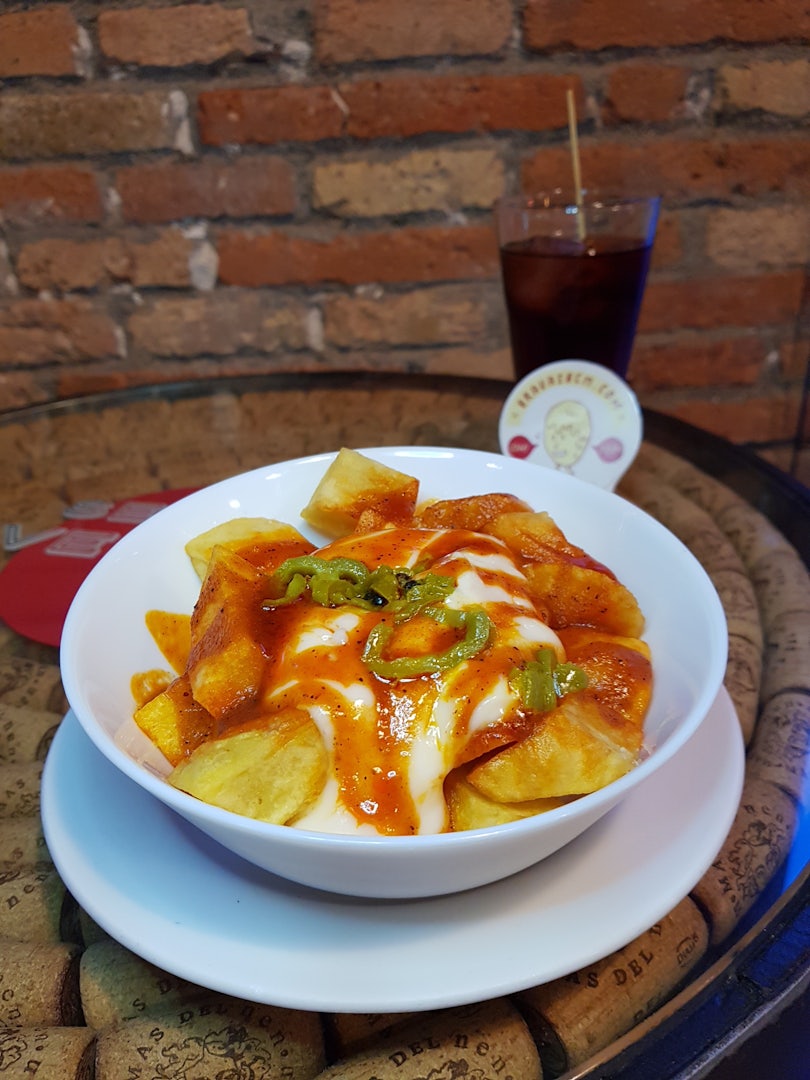 More hidden secrets of Barcelona?
Discover Barcelona in the footsteps of a true local. Less tourist traps, more hidden gems. Now available in our online shop.
Buy the book
3) Bar Omar
I have been following chef Omar for many years, and everywhere he goes, he leaves his mark. This time, with his own business, he amazes us once again with this extraordinary version of patatas bravas. He calls it 'the sea of ​​bravas'. He uses 'Monalisa' potatoes and covers them with a spicy sofrito, made with shrimp head sauce, and adds saffron allioli. Paella brava, the ultimate fusion of Mediterranean and street food. So good.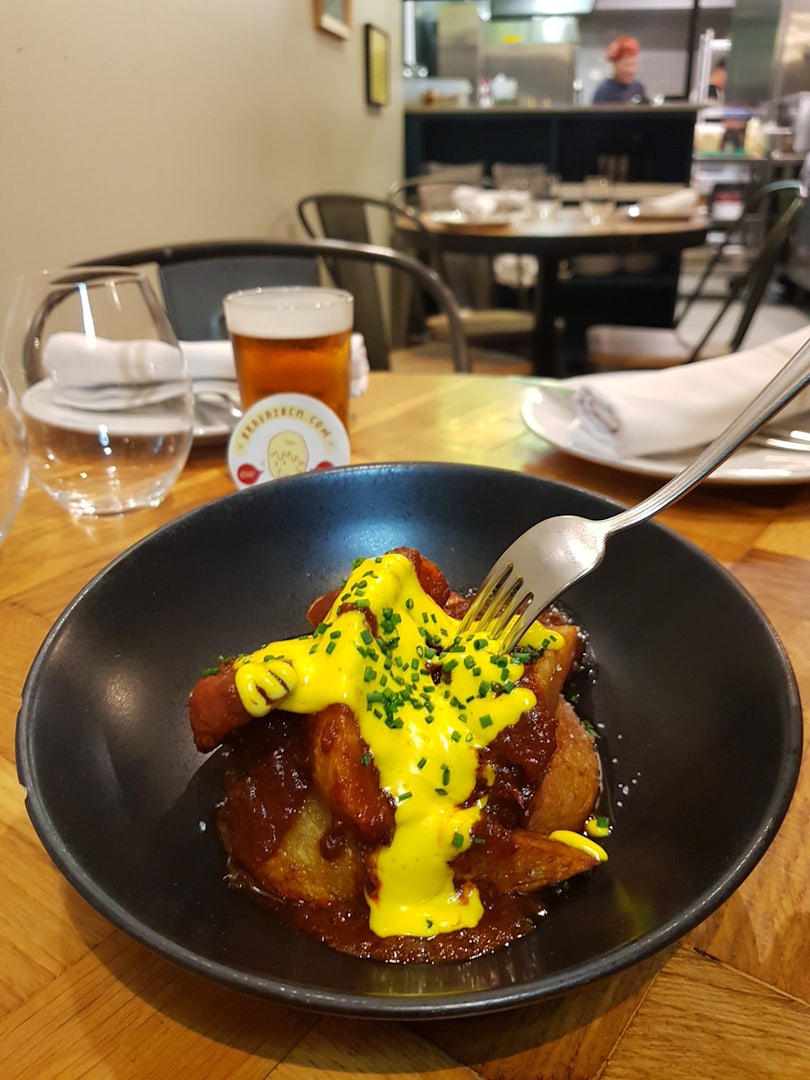 4) Sant Antoni Gloriós
Both sauces are a natural phenomenon, and I cannot seem to figure out their ingredients. I've asked Mandu, the chef, a thousand times, and he won't even tell me a single one of them. They're like a drug: once you try them, you're hooked. He has been serving his bravas for many years, ever since he started his former restaurant, Bohèmic (at the same location). Currently he's serving a very dynamic and aesthetic cuisine, in the style of an old vermuteria.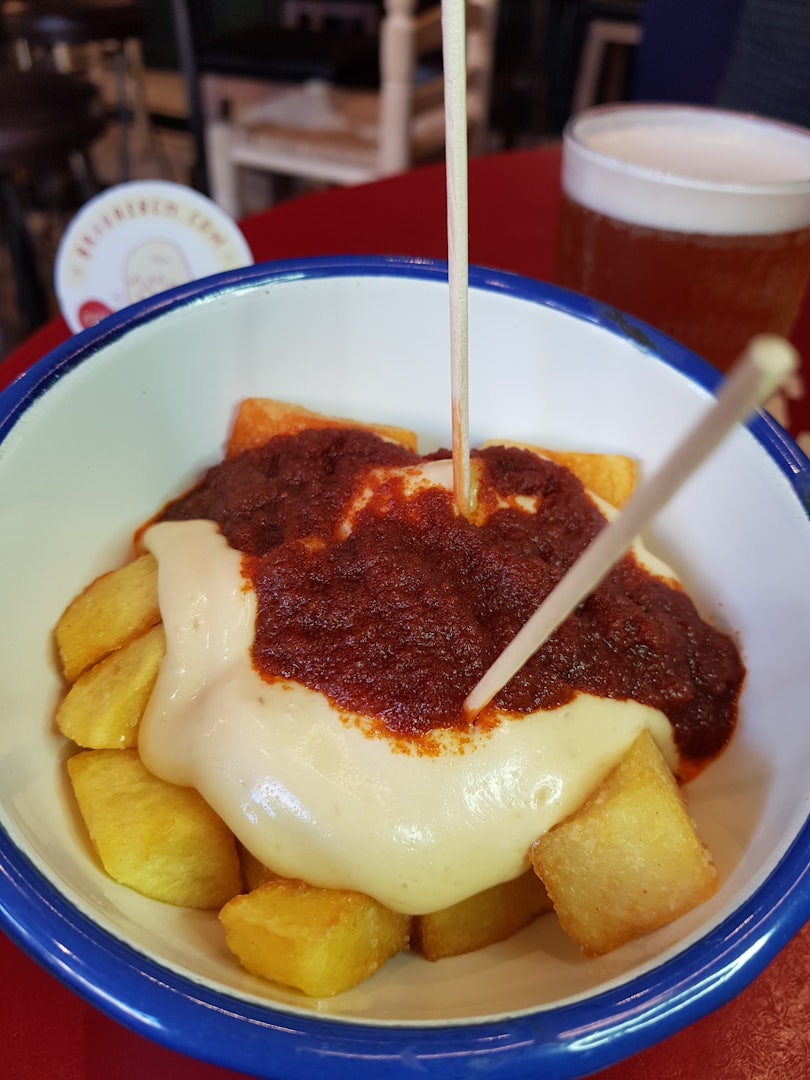 5) Informal by Marc Gascons
Extremely crispy potato puff pastry sticks that you dip into two excellent sauces. The sophisticated technique that Michelin-starred chef Marc Gascons applies to the bravas, consists of a kind of potato lasagna that he compresses and cooks under vacuum. Then he cuts them lengthwise to get these fantastic dipping sticks. Served in a luxury hotel, they're pretty expensive, but I think you should try them at least once in your life.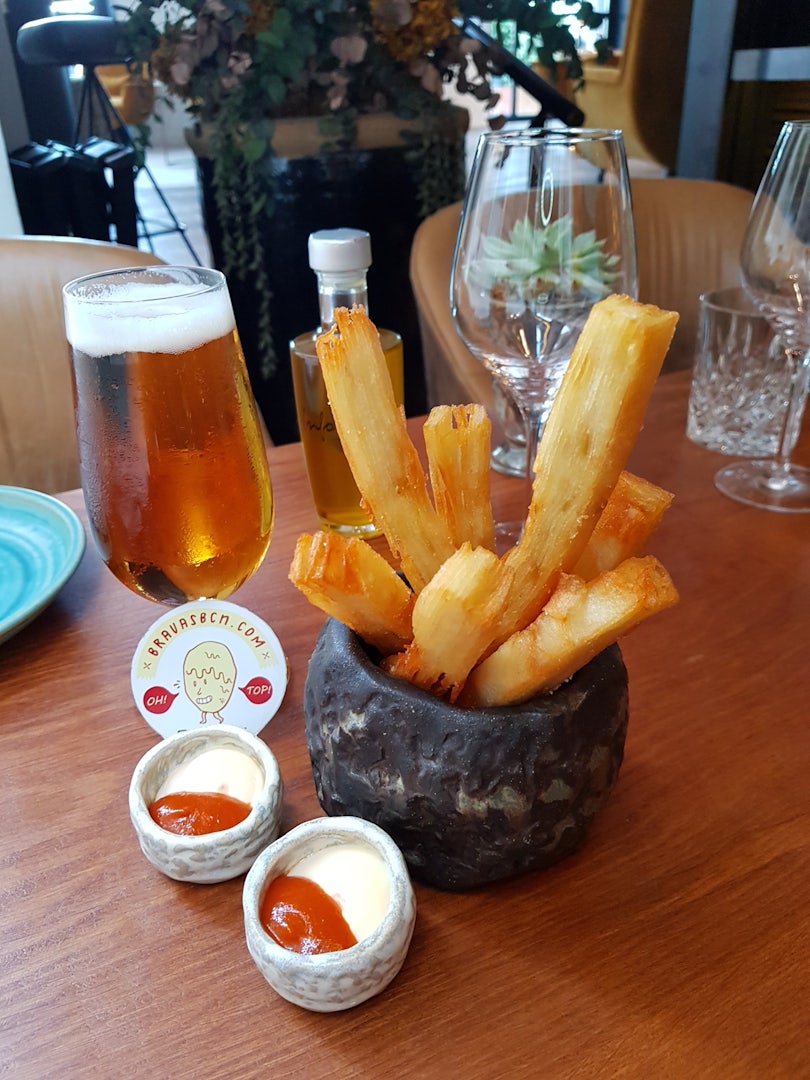 6) Bar del Pla
Perfect for those who don't want their bravas to be too spicy, but can't get enough of the famous tapa. An out-of-this-world dollop of allioli with a creamy texture, yellowish and with lots of egg yolk. The red sauce is a lovely tomato sauce, drowning pieces of potato so big that you have to cut them up to be able to fit them into your mouth. It is always packed with tourists, so book ahead, or you will be standing in an endless queue.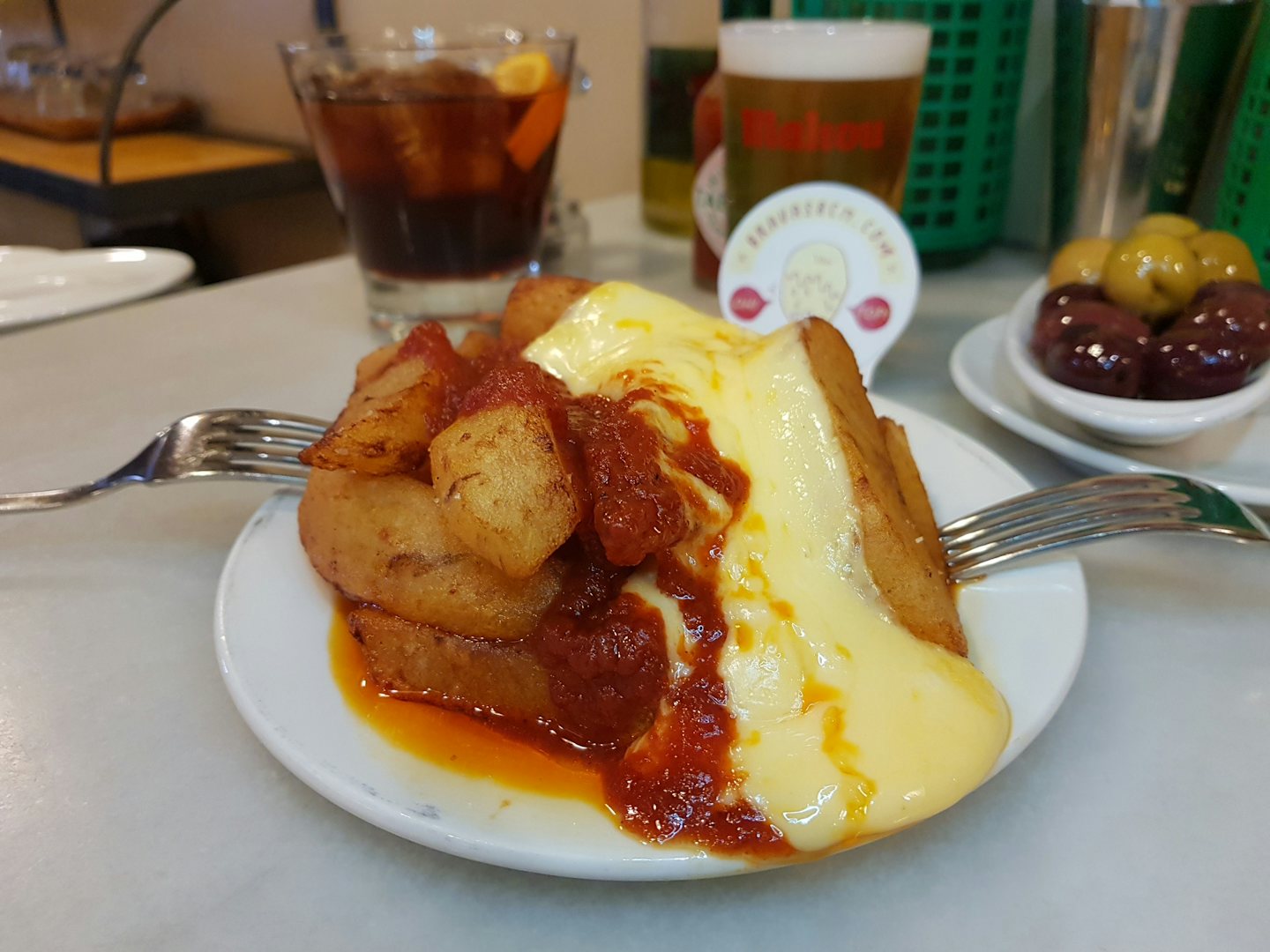 Join the community
Sign up for free to gain unlimited access to the website. Plus, you'll receive a 10% discount in our online bookshop.
Sign up
| | |
| --- | --- |
| Already a member? Log in. | New here? Sign up. |