Inspiring

art museums

in Belgium
1) Verbeke Foundation
Here is one of the strangest spots in Belgium. It looks like a junk yard next to a motorway, out in the middle of nowhere. But this unexpected location is home to one of the most astonishing private art collections in Europe. It's not easy to find, even with the best map. You have to look out for the McDonald's sign poking above the trees. Then you might spot a small sign pointing to the Verbeke Foundation. Turn off the road here and look for a parking space among the rusting cranes and heaps of wood. Geert Verbeke used to run a road haulage business on this site. He turned the place over to art in the summer of 2007. It has slowly evolved into a rambling, overgrown collection with strange rusting sculptures hidden among the trees and odd art creations stored in an enormous glass greenhouse. Verbeke has acquired some striking art works over the years, including a giant vase by Andrea Branzi that once stood in the courtyard of the Ghent Design Museum, a group of realistic horse sculptures by Ronald de Winter and a collection of Theo Jansen's curious moving creatures called Strandbeesten. Visitors receive a little map to navigate around the site, which lists more than 60 works dotted around the wilderness. Some are so well hidden almost no one ever finds then, like Ryan Mendoza's White House, an abandoned Detroit building in a remote clearing in the woods. The collection also includes the vast Archive for the Future by the Dutch artist Jacobus Kloppenburg, which occupies a warren of little rooms inside 13 stacked shipping containers. Most of Kloppenburg's works were destroyed by Amsterdam city council when it removed 52.000 kilos of art from his house in 13 containers. Here you can see all that remains. The Verbeke foundation provides space where artists can work on temporary projects while living in a small farmhouse. It also has a restaurant with a terrace, an artificial lake and two art installations where you can spend the night.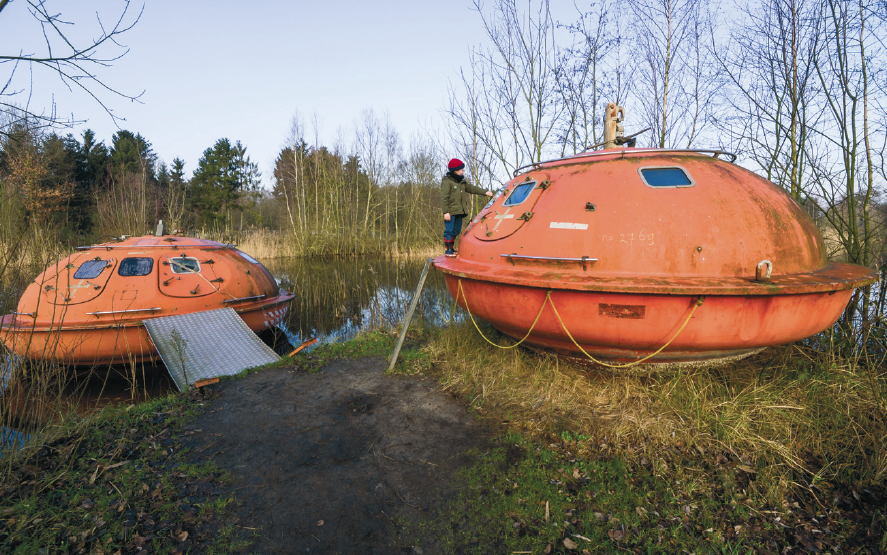 2) La Boverie
It used to be a forgotten art museum at the end of an island in the Meuse, but Liège's La Boverie has been reborn. The impressive domed building put up for the Liège World Fair of 1905 reopened in 2016 after a long restoration. The collection had been neglected for many years. At one time, the city talked about selling a Picasso painting to pay its debts. But Liège is now working to improve its image and its art museum has become a landmark building with big windows looking out on the river and a new footbridge linking it to Liège-Guillemins station. Built up over the centuries, the collection includes a beautiful painting of Le Havre harbour by Monet, along with works by Wiertz, Ensor and Magritte. But perhaps the most interesting room contains nine modern paintings declared 'degenerate art' by Hitler and sold in 1938 at an auction in Lucerne. A delegation sent from Liège snapped up the nine works, which included Picasso's sad portrait of the Soler Family sitting down to a picnic. The museum cafe, cleverly renamed Madame Boverie, occupies a striking domed hall furnished with old industrial benches, assorted wooden chairs and plants in black metal pots. It is the perfect spot to experience the cultural renaissance of this old European city.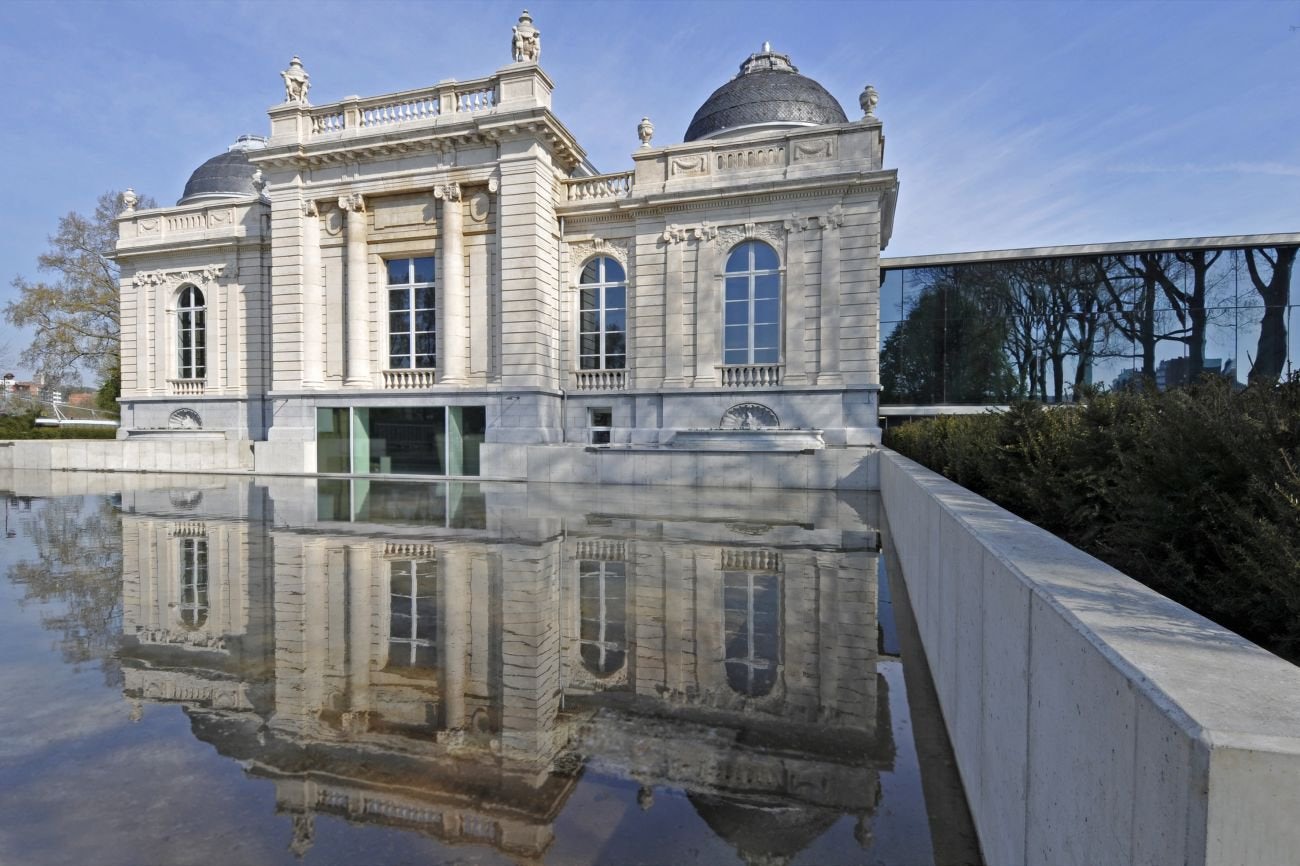 More hidden secrets in Belgium?
Discover a different side of Belgium with this guide listing over 350 places off the beaten track, carefully hand-picked by a true local. Available in our bookshop now.
Buy the book
3) Roger Raveel Museum
You might sometimes be the only person wandering around the Roger Raveel Museum. But it's worth making a trip to the sleepy village of Machelen where this neglected artist spent his life. The museum is a stunning modern building by the architect Stéphane Beel joined to a former parsonage where temporary exhibitions are held in a warren of little rooms. Raveel was an unconventional artist who created paintings using chicken wire, mirrors, window frames and bicycle wheels. He even occasionally incorporated caged yellow songbirds into his works. A short walk from the museum brings you to the cemetery where his grave is marked by a simple flat stone. His wife, who died a few years before him, has a more striking tomb overlooked by an enigmatic male sculpture with a mirror embedded in his stomach. The cemetery stands near a cut off bend in the old River Leie that would have been filled in if Raveel had not organised a protest.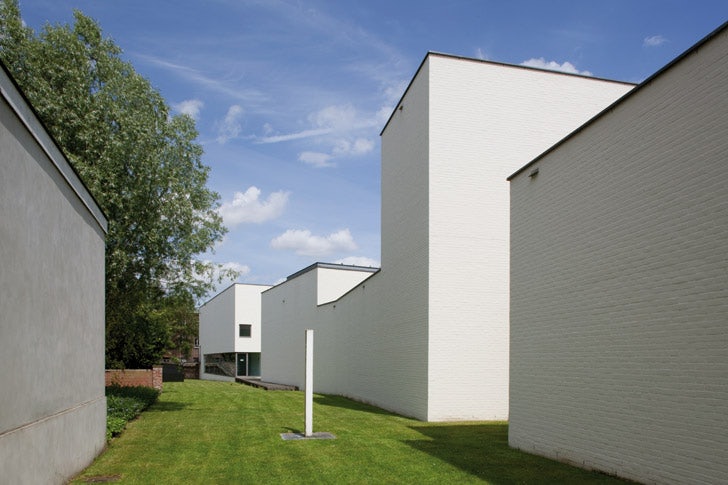 4) Museum Mayer Van Den Bergh
A forgotten art collection occupies a sombre neo-Renaissance house in Antwerp. Overcome your caution and you will discover one of the finest private art collections in Europe. It was assembled by Frits Mayer van den Bergh, a rich art collector who died at an early age, leaving everything to his mother. She turned her son's empty house, which he never occupied, into a museum. The collection includes Pieter Bruegel's haunting painting Dulle Griet as well as a tiny sculptured head of Blanche de France, daughter of the King of France, who died before her third birthday, just 17 days after her sister passed away. Their devastated father commissioned a marble tomb with the figures of his two daughters. It was destroyed in the French Revolution, leaving just this one little head in a deserted museum in Antwerp.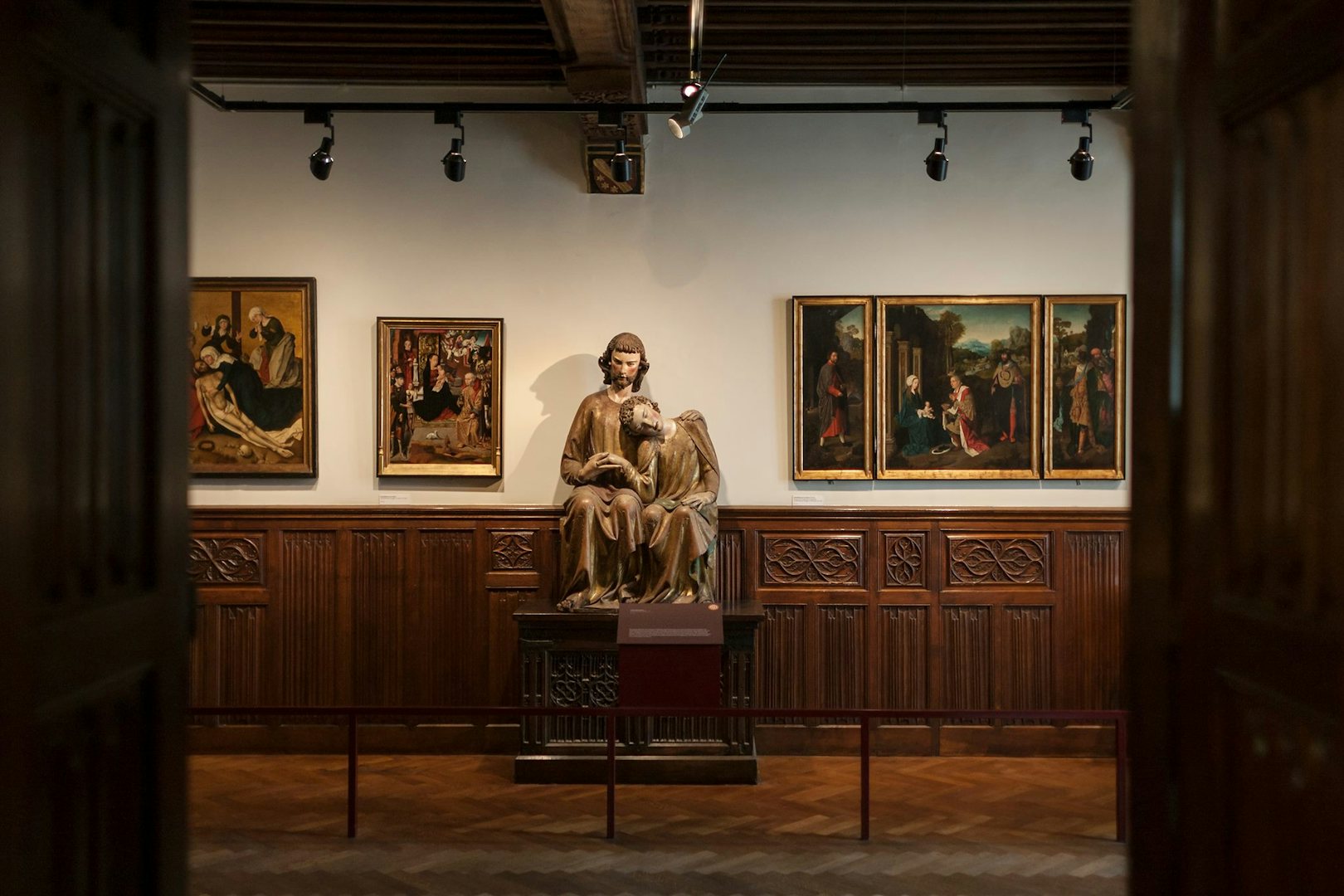 5) Mariemont Museum
The striking Mariemont Museum is the last thing you would expect to find in the old industrial region around Charleroi. Located in a landscaped park where a 16th-century castle once stood, it contains an extraordinary collection created by the fabulously rich industrialist Raoul Warocqué. He accumulated thousands of objects on his travels, including a decorated room from Pompeii, a giant Egyptian God and dozens of classical Greek statues. The collection was gifted to the Belgian state when Warocqué died in 1917. But disaster struck when the old château was destroyed by fire in 1960, leaving just one wing standing. The collection survived and is now displayed in a severe concrete building designed by the Belgian architect Roger Bastin. The museum sits in a romantic park with the overgrown ruins of an 18th-century château, a hidden temple, rose garden and a version of Rodin's famous Burghers of Calais.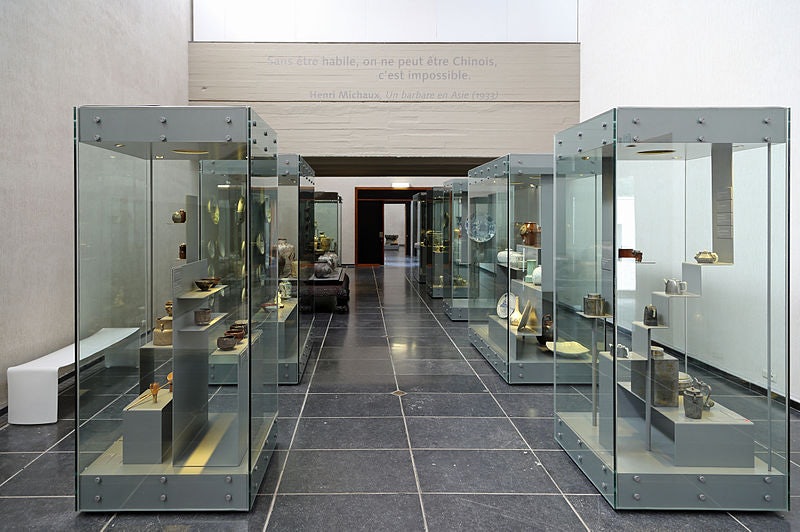 6) Musée de la Photographie
This beautiful photography museum occupies a restored convent in the Charleroi suburbs. It is a wonderful building to wander around, with an outstanding collection of 80.000 photographs, along with a bright cafe and a shady terraced garden where you can eat a simple lunch.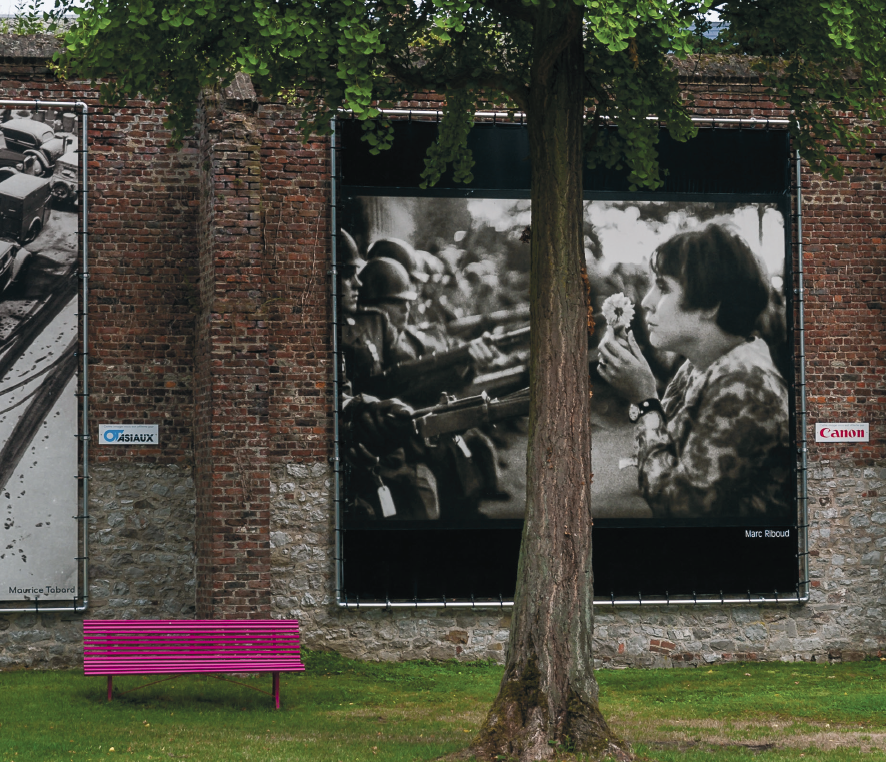 7) Le Grand-Hornu
The vast Grand-Hornu industrial site was founded in the early 19th century as an utopian mining village in the heart of the Borinage district. The rugged brick architecture has been lovingly restored to house the contemporary art museum MAC's and the design museum CID. It is a little tricky to find, but worth making a trip out here to wander through the impressive neoclassical buildings, visit surprising art exhibitions and follow a wild nature trail to the top of the abandoned slag heap.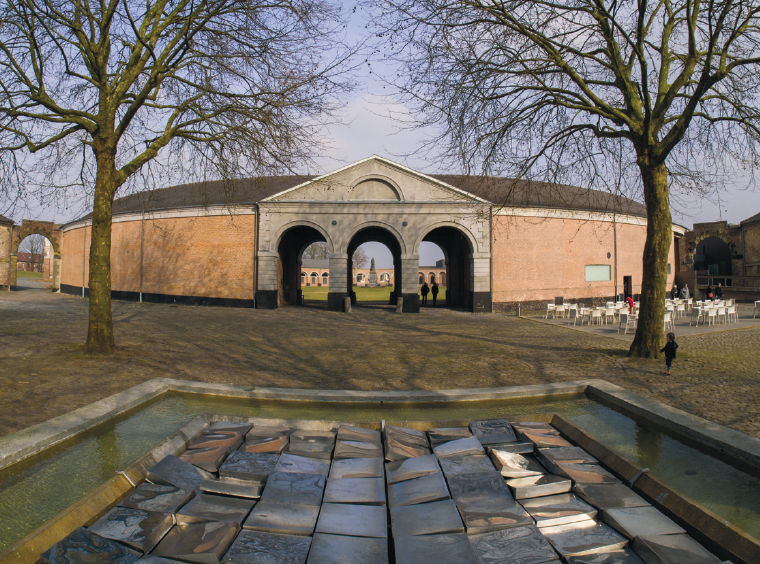 Join the community
Sign up for free to gain unlimited access to the website. Plus, you'll receive a 10% discount in our online bookshop.
Sign up
| | |
| --- | --- |
| Already a member? Log in. | New here? Sign up. |